Age Advantage,
Serving Seniors Since 1998
Serving seniors...it is our passion, our life's mission, our honor. They have spent their lives building the world we enjoy. They have fought for our freedoms, paved our streets, built our schools, and invented our necessities. Some brought us into the world and invested everything they had for us. Our children now swing from the trees they planted. These beautiful lives that have experienced the gains and losses, the successes and failures, the laughter and tears of life are the lives we serve.
Over a decade ago we started a small home care agency in San Diego, California. We had one goal in mind... quality care for seniors. Poor service is unacceptable, especially to those that find themselves emotionally or physically vulnerable. We are very proud to say that we raised the bar for professionalism, dependability, and service in the homecare industry. Now, with the help of many wonderful franchise owners, Age Advantage serves seniors throughout our great nation.
You can rest assured that Age Advantage will care for you or your loved ones with professionalism, safety, and respect.
It is a pleasure to serve you and your family. May God bless and keep you always!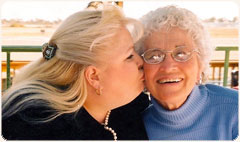 "Don't regret growing old, it's a privilege denied to many"
(author unknown )